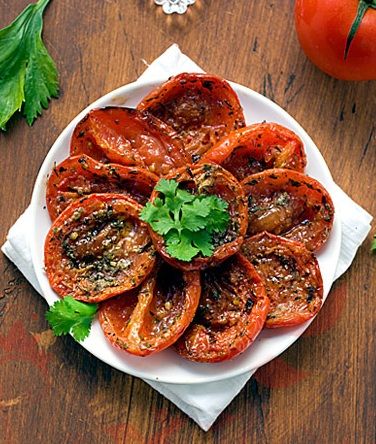 If you love eating tomatoes and you are looking for a recipe to satiate your palate for the day then you may want to try preparing some roasted tomatoes. The good news is that it only takes 8 minutes to prepare this and 25 minutes to cook and you this recipe cam serve a maximum of 5 people.
Ingredients: 
Plum tomatoes cut in half length-wise with their core and seed removed – 12
Good quality olive oil – 4 tablespoons
Balsamic vinegar – 1 ½ tablespoon
Minced, large garlic – 2 cloves
Sugar – 2 teaspoons
Kosher salt – 1 ½ teaspoons
Freshly ground black pepper – ½ teaspoon
Springs of fresh rosemary
Procedure: 
Preheat the oven to 450 degrees Fahrenheit and while you are waiting, arrange the tomatoes on a sheet pan and cut the sides up in a single layer. You also have the choice of preheating it to 325 degrees Fahrenheit. 
Cut the tomatoes in half horizontally and use a knife to remove the stem though it is up to you if you want to keep the stems. Once you are done, toss them onto the pan. 
Drizzle or pour some olive oil and balsamic vinegar followed by a sprinkle of garlic, sugar, salt and pepper over the tomatoes. You can also add rosemary for added flavor. 
Roast them for roughly 25 to 30 minutes depending on how roast you want them to be or until they melt. Once they are thoroughly roasted, you can start serving them warm or in room temperature. Another option is to bake them for at least two hours so that the tomatoes if you want to over roast them.
Notes: 
Make sure that you utilize a baking dish or a pan that is big enough to accommodate all the tomatoes.
Keep in mind as well that you want these tomatoes to have room to breathe when you are baking them on the pan or baking dish. This allows the moisture to escape which enhances the flavor of the tomatoes.
Use an aluminum pan and not just any random metal pan for better results since other metals tend to react negatively to the acidic nature of the tomatoes and or any fruits for that matter.
You also have the option to cut the tomatoes' stems before you roast them.
You can keep the tomatoes inside the refrigerator frozen for up to six months.
Image credit: spiciefoodie.com