A lot of people enjoy eating mashed potato and if you are one of those individuals who savor the taste of mashed potatoes along with creamy gravy then this is how you can make one:
Ingredients: 
1 ½ Ibs Yukon gold potatoes, peeled and quartered length-wise
½ teaspoon of salt
4 tablespoon of heavy cream
2 tablespoon of butter
1 tablespoon of milk
Salt and pepper
Step 1: Put the potatoes in a saucepan and then add ½ teaspoon of salt. Put some water until all the potatoes are submerged and bring it to boil then reduce the heat and let it simmer covered for 15-20 minutes. If it is done earlier then you can go ahead with it. You can use a fork to see if they are already done by piercing through them. 
Step 2: Warm the cream and melt the butter along with it. You can do this either through a microwave oven, a pan or even on a stove. Drain the water from the potatoes then put them in a bowl before adding the cream and the melted butter. It is best to use a potato masher to mash the potatoes real well. Use a sturdy spoon to beat them further while adding milk so that you can achieve the consistency that you are looking for. Just be mindful not to mash them too much that the potatoes will end up being gooey. Add some salt and pepper and then taste them. If it is still not enough then just add more.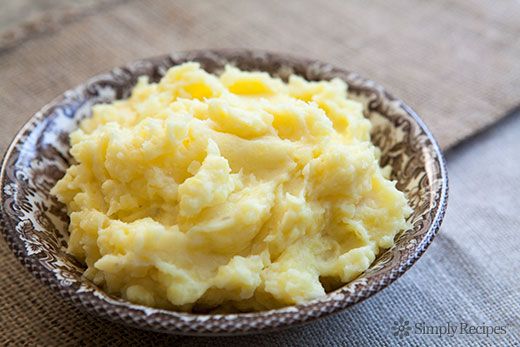 Image credit: simplyrecipes.com via Pinterest