United States is one of the most visited countries in the world. It is known for its beautiful landscapes and gorgeous celebrities. However, there is also another important attraction in America that make tourists keep coming back. America is also famous for its delicious steaks. Food experts say that American prime beef is one of the finest in the world. Anywhere in the country, you will find the best restaurants that serve mouth-watering steak recipes.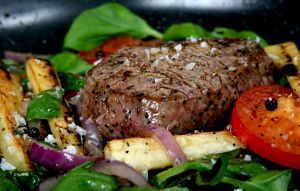 If you're a meat lover and you're planning to travel to the Land Of The Free, be sure to visit the following steakhouses:
Old Homestead Steakhouse, New York
Last year, Lauren Torrisi of ABC news reported about a NYC restaurant that serves a $350 steak.  Meat lovers can order the expensive 12-ounce portion of Kobe beef from Old Homestead Steakhouse. Kobe beef has an intense and succulent flavor because it comes from a special breed of Wagyu cattle. This type of cattle has a special diet which includes clean water, rice, maize and barley.
The Prime Rib, Baltimore
This restaurant has opened its doors to the public since 1965 and instantly becomes a favorite spot of meat lovers. Aside from their branch in Baltimore, they also serve clients in Washington and Philadelphia. Their specialties include Prime Rib Signature Entrée, Roast Prime Rib Full Cut and double breast of chicken. The restaurant is also famous for their USDA Prime Filet Mignon. According to meat lovers, the USDA Prime Filet Mignon is one of the juiciest meal you can ever taste. It is also very tender that it can be cut using a fork.
Fleur de Lys, San Francisco
Fleur de Lys in San Francisco is not your ordinary French restaurant. In 2004, 2005, and 2006, Gayot restaurant guide ranked the original Fleur de Lys as one of the top 40 restaurants in America. They serve a variety of scrumptious dishes from meat to poultry and seafood. Diners especially love their seared filet mignon, which is accented with red wine, shallot and thyme bordelaise sauce.
Listed above are some of the best steakhouses in America. Make sure that you visit them the next time you are around the vicinity. If you want to make your own, the country also has top butchers and meat stores where you can find the finest beef and steaks. You can also order a variety of meat cuts, gourmet meats and USDA prime steaks online.